Cenk Gureken is currently working as the European Projects Team Leader at SAMPAS Holding, which is the biggest and most awarded smart city solutions provider company in Turkey.

The C2IMPRESS Dissemination, Communications and Exploitation (DC&E) team talked to Cenk regarding the project and his organisation's contribution in it.

(Don't forget to click on the video at the end of this blog to watch Cenk's interview.)

C2IMPRESS DC&E: How do you think the C2IMPRESS project will contribute to disaster and hazard research and innovation in Europe and worldwide?

Cenk Gureken: Traditionally, we've often centered our approaches around specific hazards, but C2IMPRESS has a different vision. We aim to shift the focus to a more holistic and integrated perspective through a multi-hazard risk assessment framework that centers on "place and people." This matters because we gain a more comprehensive understanding of the complex interactions between various extreme weather events and their impacts.
The C2IMPRESS project isn't just about ideas; it's about innovative models, methods, frameworks, and technologies. For example, we're developing the System-of-Systems for Multi-Hazard Risk Intelligence Network (SoS4MHRIN) platform, an Agent-Based Model, polycentric risk governance strategies, and citizen engagement tools. What's even more exciting is our emphasis on co-design and co-creation processes, as well as socio-technical innovations. All of these elements collectively enhance our ability to tackle disasters and hazards effectively.

In summary, the C2IMPRESS project is about changing the game when it comes to disaster and hazard research. It's a shift towards understanding the bigger picture, empowering communities, and using cutting-edge technology and collaborative efforts to build a safer and more resilient future for all. I encourage you to stay tuned for the incredible progress we'll make together.
C2IMPRESS DC&E: How were the pilot sites for the project selected?
Cenk Gureken: C2IMPRESS project aims at producing general solutions that would apply to most of the multi-hazard problems, some of the solutions will be tested and validated in 4 Case Study Areas (CSAs) - in Turkey, Portugal, Greece, and Spain.
The pilot sites for the C2IMPRESS project were selected based on a combination of factors, including their vulnerability to compound weather and climate extremes, availability of relevant data, willingness, and engagement of local communities, and the potential for the project's outcomes to have a meaningful impact.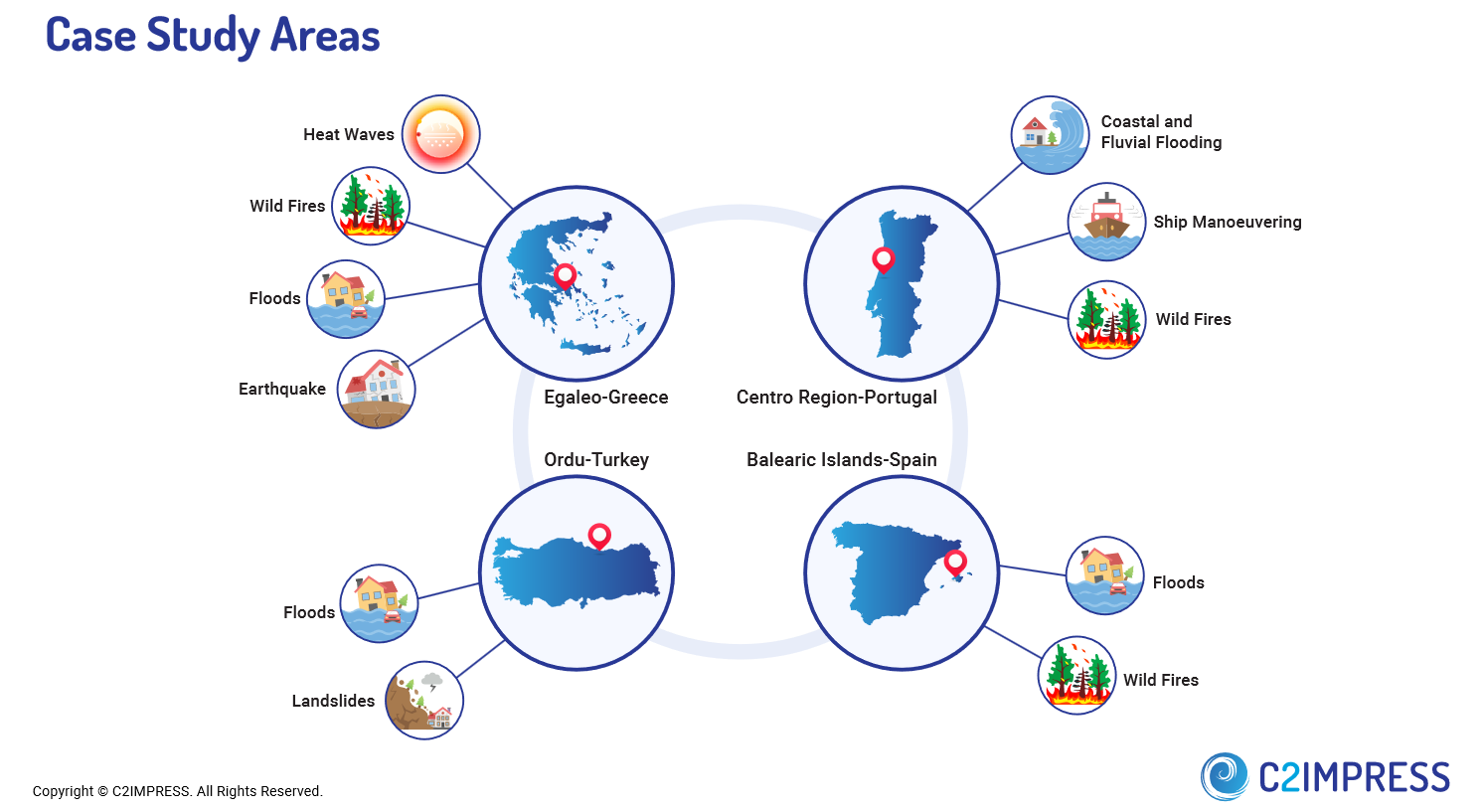 Fig: Case study areas of the project
These areas have been chosen strategically to represent diverse geographic, climatic, and societal conditions, thereby allowing the project's methodologies and innovations to be tested and validated across a range of scenarios.
These CSAs represent different distinct climatic and socio-economic variabilities, showcasing novel regional insights with local and broader relevance in a changing climate (considering differential severity and frequency of extreme weather events and their compound effects).
The selection of these pilot sites would enable the project to gather comprehensive data, insights, and lessons that can later be applied to other regions facing similar challenges.
C2IMPRESS DC&E: How do you think the C2IMPRESS project might be a good option as a model project for other European regions?
Cenk Gureken: The C2IMPRESS project could serve as a model project for other European regions due to its innovative and comprehensive approach to addressing multi-hazard risks and building resilience. The project's emphasis on shifting from a hazard-centric approach to a people and place-centered framework, along with its integration of various technologies and methodologies, can provide valuable insights and best practices that other regions can adopt and adapt.
Fig: Impacts of the project
The co-design and co-creation approach, coupled with the focus on citizen engagement and multi-actor decision support, can enhance community involvement and ownership, which are crucial for effective disaster preparedness and response. Additionally, C2IMPRESS's attention to socio-environmental justice and equity aligns with the growing recognition of these principles in sustainable development and governance.
By showcasing successful implementation and outcomes in its four case study areas mentioned earlier, the C2IMPRESS project could inspire and guide similar initiatives in other European regions to address their own multi-hazard challenges and transition toward more resilient and just societies.
In the following video, Cenk introduces SAMPAS Holdings and its contribution to the C2IMPRESS Project, and discusses about expected results and outcomes from the C2IMPRESS Project.
Watch the video here:
Cenk Gureken's bio
Cenk Gureken is currently working as European Projects Team Leader at SAMPAS Holding, which is the biggest and most awarded smart city solutions provider company in Turkey. He is responsible for the coordination of the C2IMPRESS project. In addition, managing SAMPAS's tasks within the ongoing 5 different EU-Funded Smart City Projects (Horizon Europe/H2020), developing new project proposals and actively involved in the networking and establishing of new consortiums. His working areas are smart city solutions, urban automation systems, sustainable urbanization, ICT platforms and digital twins.
In 2016, Cenk graduated from Izmir Institute of Technology, Faculty of Architecture, Department of City and Regional Planning with first place. He studied architecture and urban planning with the Erasmus + exchange program in Politechnika Gdańska in Poland. He started his career as Geographical Analyst at Nokia HERE Maps and continued working as GIS and 3D Modelling Specialist at Geotech Geographical Information Systems company.
Contact: Click here to email

About C2IMPRESS Project:
C2IMPRESS is a three-year-long project funded by the European Commission with a total grant amount above €5 million. The consortium is built with universities, municipalities, and technical and research organisations from international and pan-European partners from Turkey, France, Spain, Portugal, Greece, the United Kingdom, and Australia.